Energetic and full of ideas? Love challenges? Then you'll fit right in.
Our people are all of different ages. They come from different backgrounds with different expertise. At Island Gate, we encourage our people to think and do things differently. We are constantly breaking new ground in the application of cutting-edge technology in our core markets of health care industry.
Help us seize the opportunities of tomorrow in the distribution of CITIZEN blood pressure monitors, nebulizers and thermometers, along with CITIZEN calculators and L'Docile devices. In return, you'll find a company that treats you with respect, listens to your views, looks after you and encourages you to be yourself.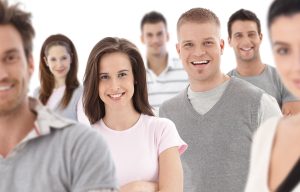 Graduates Support
Island Gate Supports the Graduates of Partner Universities
IGT supports the graduates by giving them free on-the-job-training. IGT is providing them free training on all business aspects including but not limited to sales & marketing, technical, finance and administration.
IGT is pleased to be involved in and support the graduates of Ajman University of Science and Technology by giving them practical 100% desk assignments. This on-the-job-training initiative will give graduates of the university an opportunity to demonstrate a broad experience, and the sort of commitment to work in the society which is essential for their careers to flourish, and will certainly give them a real advantage in the jobs market. It is overwhelming to see the fresh graduates to take 'real life' examples into future career roles and make an immediate impact. Many of them state in the interviews conducted by the acting Training Manager, that he/she hopes to make an impact in a future job role. From what I have personally seen, these fresh graduates are able to show what he/she has already done in their university experiences which gives them more confidence to their future employers.
The idea and scheme of this project is part of IGT's vision to give opportunity for students and graduates to develop their employability skills and gain experience while working across a range of diverse community and business areas. "As an employer, I believe that the professional and personal skills gained from us will help the graduates succeed in a highly competitive environment. It also opens us the door of opportunity to select fresh graduates who are more easily able to make the transition from education into the world of work. Indeed, it does not only help the graduates themselves but is essential for local businesses who are constantly searching for new graduates." says the Managing Director.
"Island Gate is committed in providing the recent graduates with experience from our careers staff who will support them in developing their career planning, job search and application skills so they can realize their full potential.", he added. He continues, "This project complements and expands on our existing free service which offers support to the fresh graduates in their career development needs. We are delighted that this initiative will also enable us to support the graduates of different Universities."
For any inquiries related to these free services, please contact the following:
P.O. Box 40015 Dubai, United Arab Emirates+971 4 295 9669+971 4 295 5788info@island-gate.com